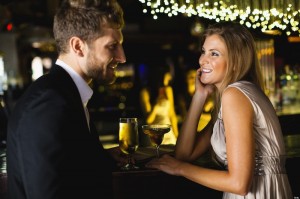 The easiest way to make women like you is by showing them your relationship potential. When it comes to attracting a girl, the first thing her brain is going to look for is your ability to be a good partner.
I'll be blunt: unless you get past this barrier, she'll never want to get naked with you.
I mean, most guys will want to sleep with a girl even if they never see each other again. That's just how we are.
As for a woman, she's looking for "boyfriend qualities" in a guy before he can get any further with her. One of these important traits is none other than the ability to keep her interested on a consistent basis.
And a lot of that comes from being able to keep the levity alive. In other words, you need to make a woman laugh.
This is one of the most powerful ways to make her want to get with you. Being humorous speaks of a confident personality, which is what any guy should aspire for.
Plus, a funny guy doesn't take himself too seriously, which means he has an easy-going vibe that pulls women in.
If that wasn't enough, consider the fact that humor and intelligence are closely linked. If you're funny and engaging, she'll put two and two together in your favor.
Besides, you've heard the worn-out phrase about laughter's therapeutic effects, right? Well, it works in dating as well.
Pickup artists are good at taking women through an emotional ride using stories that evoke excitement and/or humor. They understand that the more a woman is amused, the easier it is to trigger all those feel-good hormones in her brain.
Ever wonder why people refer to the feeling of attraction as "chemistry"?
Article continues – CLICK HERE for next page